methods of preparations of aldehydes n ketones???
Asked by seema behera
26th July 2012,
4:11 PM
Answered by Expert
Answer:
Oxidising alcohols to make aldehydes and ketones
The oxidising agent used in these reactions is normally a solution of sodium or potassium dichromate(VI) acidified with dilute sulphuric acid. If oxidation occurs, the orange solution containing the dichromate(VI) ions is reduced to a green solution containing chromium(III) ions.
The net effect is that an oxygen atom from the oxidising agent removes a hydrogen from the -OH group of the alcohol and one from the carbon to which it is attached.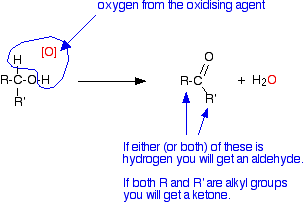 R and R' are alkyl groups or hydrogen. If at least one of these groups is a hydrogen atom, then you will get an aldehyde. If they are both alkyl groups then you get a ketone.
Answered by Expert
26th July 2012,
7:22 PM
You have rated this answer /10
Your answer has been posted successfully!
RELATED STUDY RESOURCES :
Trending Tags
Latest Questions
ICSE X English
Asked by mailriyam
21st July 2019,
9:01 PM
NEET NEET Biology
Asked by priyanshu2sahu
21st July 2019,
8:56 PM
NEET NEET Biology
Asked by Mayuresmatekar2002
21st July 2019,
8:54 PM