Education
Revise without Feeling that you are Actually Revising
Revise without Feeling that you are Actually Revising
By Pratibha Yadav
05th Jun, 2015
03:48 pm
The last minute revisions are crucial for a student, and there is no way you can get rid of them. All you can do is make it a little easy and smooth. Here are some tips which you can follow to not let revision feel like one.
Image source: http://www.soundsenglish.com
Recordings: You can record important points of every chapter on your phone and listen to them when you are travelling or doing other stuff.
Image source: http://www.explainingcomputers.com
YouTube Videos: Video lessons are one of the effective ways of learning. The impact of visual learning on the mind is long lasting. So, viewing video lessons on YouTube can be an easy way to revise your syllabus.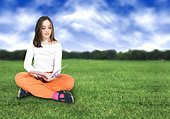 Image source: http://l1.alamy.com
Outdoor Revisions: Studying outdoors can be fun too. Revising in the natural environment can ease out the stress and help you revise effectively. Choose your favourite place and start your revisions.
Image source: http://us.cdn1.123rf.com
Stickers: While you are studying your chapters for the first time, you can make a note of important points. Stick those notes in your bedroom, fridge and other places which you frequently visit. This will make your revision really easy. So, when you actually sit for revision, you will end up remembering everything, thanks to the stickers.
Teach what you Learn: Try teaching your friends what you have learnt. Teaching itself is a revision and you will never forget anything. So, call your friends and start teaching them.
Image source: baramdekidhoop.files.wordpress.com
Recall Moments: Try recalling what you have learnt. Now, recalling moments can be done anywhere. While you are in the shower, in bed, playing or sitting idle, you can just recall things you have learned. Recalling helps you remember things.
MORE from Education