would u please explain brewsters law and malus law breafly
Asked by

simistanes
| 9th Mar, 2011,
01:46: PM
Dear student
Pls. post each question individually.
According to malus, when completely plane polarized light is incident on the analyzer, the intensity I of the light transmitted by the analyzer is directly proportional to the square of the cosine of angle between the transmission axes of the analyzer and the polarizer.
i.e   I ∞ cos2θ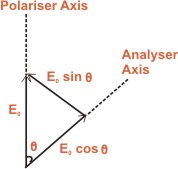 Brewster's angle (also known as the polarization angle) is an angle of incidence at which light with a particular polarization is perfectly transmitted through a transparent dielectric surface, with no reflection. When unpolarized light is incident at this angle, the light that is reflected from the surface is therefore perfectly polarized.
 Hope this clarifies your doubt.
Regards
Team
Topperlearning
Answered by
| 9th Mar, 2011,
10:03: AM
Kindly Sign up for a personalised experience
Ask Study Doubts

Sample Papers

Past Year Papers

Textbook Solutions
Sign Up
Verify mobile number
Enter the OTP sent to your number
Change
Sign up with different email address/mobile number