what will the graph for sine of angle of incidence and angle of refraction?
Asked by Paraukkhal
3rd February 2011,
8:00 PM
Answered by Expert
Answer:
Dear student,
the plot would be a straight line, indicating a linear relationship between the sines of the important angles. If two quantities form a straight line on a graph, then a mathematical relationship can be written in
y = m*x + b
form. A plot of the sine of the angle of incidence vs. the sine of the angle of refraction is shown below.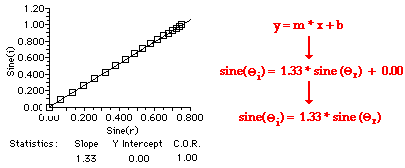 Hope this helps.
Thanking you
Team
Topperelarning.com
Answered by Expert
4th February 2011,
11:00 AM
You have rated this answer /10
Your answer has been posted successfully!
RELATED STUDY RESOURCES :
Browse free questions and answers by Chapters
Trending Tags
Latest Questions
CBSE XII Science Physics
Asked by prakriti12oct
21st July 2019,
12:07 AM
CBSE VIII Mathematics
Asked by mithu.susmita25
20th July 2019,
11:30 PM
CBSE XII Science Physics
Asked by prakriti12oct
20th July 2019,
10:41 PM