explain charging by contact ?
Asked by Gaurav Gaur
28th March 2013,
11:48 PM
Answered by Expert
Answer:
When a charged object touches another object. Electrons can be transferred through their common contact surface.  You can charge a neutral object by contact with a
charged object. Charging by contact happens when electrons move from one object to a neutral object.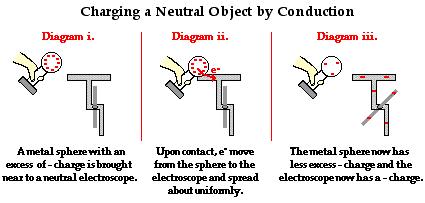 Answered by Expert
29th March 2013,
1:00 PM
You have rated this answer /10
Your answer has been posted successfully!
RELATED STUDY RESOURCES :
Trending Tags
Latest Questions
Maharashtra IX Biology
Asked by shreyakharade2210
22nd April 2019,
6:16 PM
CBSE VI Science
Asked by Pooja28101979sharma
22nd April 2019,
5:07 PM
ICSE IX History and Civics
Asked by maruti.chinta
22nd April 2019,
4:00 PM