define
Asked by praveen0205
1st May 2010,
5:35 PM
Answered by Expert
Answer:
A surd is a number under square root which cannot be reduced to a whole number. It can only be expressed exactly using the root sign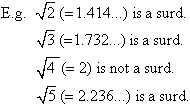 A surd has an infinite number of non-recurring decimals. So, surds are irrational numbers.
Answered by Expert
3rd May 2010,
9:47 AM
You have rated this answer /10
Your answer has been posted successfully!
Trending Tags
Latest Questions
CBSE VI Mathematics Whole Numbers
Asked by pooja.sutar144
16th July 2019,
5:05 PM
CBSE VII English
Asked by rupasarkar4933
16th July 2019,
5:01 PM
CBSE X Mathematics
Asked by lonleyvinu7
16th July 2019,
4:38 PM