India
Things You Must Know about Mother Teresa
Here some important facts you must know about Mother Teresa.
By Pratibha Yadav
25th Aug, 2015
06:10 pm
Here are a few important facts that you must know about Mother Teresa.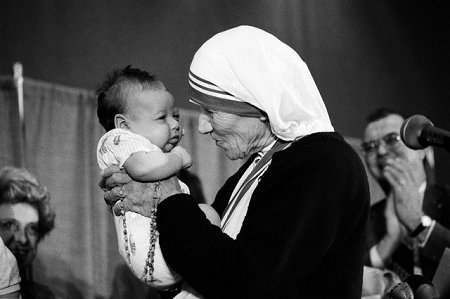 Image source: www.kamat.com
1. Agnes Gonxha Bojaxhiu (Mother Teresa) was born on 26 August 1910 in Macedonia.
2. Mother Teresa left her parent's house to pursue her desire of becoming a missionary. She was just 18 years old. She never saw her family again.
3. She left her convent life to help people living in the slums.
4. When Mother Teresa used to travel by plane, she used to collect leftover food from the co-passengers to help the poor and needy.
5. Aeroporti Nene Tereza in Albania is named after Mother Teresa.
Image source: http://www.olphscv.org
6. She promoted literacy among children; one of her first projects was teaching poor children. She continued doing so for her entire life.
7. In 1950, Mother Teresa started the Missionaries of Charity to help the destitute.
8. Mother Teresa operated about 517 missions in more than 100 countries.
9. Mother Teresa was honoured with awards such as the Indian Padma Shri in 1962, Pope John XXIII Peace Prize in 1971, the Nobel Peace Prize in 1979 and Albania's Golden Honour of the Nation in 1994.
10. She refused the Nobel Prize honour and requested for donation to help the needy and poor.
MORE from India