Education
Are We Really Concerned About Marine Life?
Am I really concerned about our marine life? How often do you ask this question to yourself?
By Pratibha Yadav
15th Sep, 2014
12:55 pm
How often do you ask this question to yourself? I often try to search for a concrete answer to this question but reality is excessively different.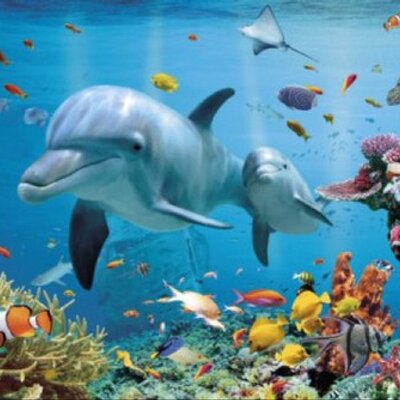 Image source:pbs.twimg.com
Yes! The truth is that we are hardly concerned about our marine life. Many inhumane activities have led to depletion of marine resources and have caused grave harm to marine animals. We may be moving towards urbanisation but what we are simultaneously doing is creating a misbalance in the marine life ecosystem.
Just think--the oceans have to withstand the worst of everything. What do you think? Where the entire waste of your city goes? The answer is quite obvious! Even the best of waste management systems dump waste in oceans thereby polluting the marine world. Is this the solution we are looking for?
Over the years, many factories and industries have sprung up. Good! It denotes that we belong to a developing and progressing nation. However, at the same time, the amount of toxic chemicals released in the oceans has also increased. The chemicals are consumed by marine animals which lead to several other problems for them. Many cases of dolphins being found dead on seashores have been noted by marine biologists. After all, there is a limit to the tortures these innocent animals can bear.
Another fatal danger faced by marine lifeforms is oil spills. The oil is deposited on marine animals and they even lose their ability to swim. A special marine biologist team works on removing oil deposited on marine animals and helps them get back to their natural form. The oil spills should be controlled to cause less danger to our delicate marine life.
The accumulation of marine debris is another setback to our efforts towards safeguarding marine life. Trash/litter such as plastic bottles, polythenes and other waste materials are known as marine debris. Some of them float on the surface of the ocean, some are submerged, while some usually end up on beaches. So, they not only pollute the marine life, but they also pollute non-marine lifeforms. The polythenes if eaten by fishes can cost them their life! Sea turtles, sea birds and other sea animals often ingest these debris. Apart from marine animals, plants such as coral reefs are affected by submerged debris. Also, we all know who is responsible for marine debris! Let's stop dumping waste in and around the sea.
Ocean acidification is another serious issue and is a huge threat to our marine life. A decrease in the pH levels of the ocean waters creates an imbalance for marine life. Due to low pH levels, many marine animals die, which also affects the ocean food web. The reason for ocean acidification is the rising levels of CO2 in the atmosphere, which is then absorbed by the ocean. So, in a way higher levels of CO2 are just not polluting the air.
Thus, there are so many threats that our marine lifeforms face; the least we can do is behave like responsible citizens and minimize the dangers they face.
MORE from Education