when do we say that an displacement is zero?
Asked by
| 19th Jan, 2014,
11:58: AM
When initial and final position of the object during motion is same its displacement is zero.
Distance and displacement are two different quantities.
Distance
 is a scalar quantity that refers to "how much ground an object has covered" during its motion. 
Displacement is a vector quantity that refers to the object's overall change in position.
A person walks 4 meters East, 2 meters South, 4 meters West, and finally 2 meters North.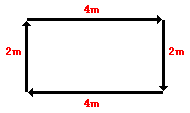 Even though the person has walked a total distance of 12 meters, his displacement is 0 meters. It is because the  initial position and final position are same.
Answered by

Komal Parmar
| 19th Jan, 2014,
02:17: PM
Kindly Sign up for a personalised experience
Ask Study Doubts

Sample Papers

Past Year Papers

Textbook Solutions
Sign Up
Verify mobile number
Enter the OTP sent to your number
Change
Sign up with different email address/mobile number