what will the graph for sine of angle of incidence and angle of refraction?
Asked by

Paraukkhal
| 3rd Feb, 2011,
08:00: PM
Dear student,
the plot would be a straight line, indicating a linear relationship between the sines of the important angles. If two quantities form a straight line on a graph, then a mathematical relationship can be written in
y = m*x + b
form. A plot of the sine of the angle of incidence vs. the sine of the angle of refraction is shown below.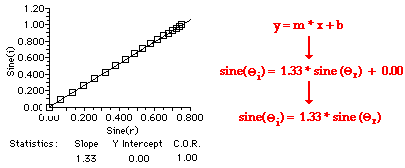 Hope this helps.
Thanking you
Team
Topperelarning.com
Answered by
| 4th Feb, 2011,
11:00: AM
Kindly Sign up for a personalised experience
Ask Study Doubts

Sample Papers

Past Year Papers

Textbook Solutions
Sign Up
Verify mobile number
Enter the OTP sent to your number
Change
Sign up with different email address/mobile number