questions
Asked by

adityaduhanomprakash
| 22nd Aug, 2010,
12:17: AM
 It is not possible to answer so many questions together please post them seprately
 dsp2 type of hybridization is seen in case of transition metal ions. The orbitals involved in this type of Hybridization are dx2- y2, s and two p. The four dsp2 hybrid orbitals adopt square planar geometry.
In ortho-substitution, two substituents occupy positions next to each other, which may be numbered 1 and 2.
In meta-substitution the substituents occupy positions 1 and 3
In para-substitution, the substituents occupy the opposite ends i.e 1,4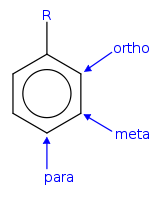 Answered by
| 22nd Aug, 2010,
08:58: AM
Kindly Sign up for a personalised experience
Ask Study Doubts

Sample Papers

Past Year Papers

Textbook Solutions
Sign Up
Verify mobile number
Enter the OTP sent to your number
Change
Sign up with different email address/mobile number