How can a soft piece of iron be transformed in to an electromagnet? Draw a circuit diagram to show the same.
Asked by
| 16th Oct, 2010,
06:15: PM
Dear student
An electric

current flowing through a wire produces a magnetic field. Coiling the wire produces a stronger magnetic field. Coiling it around a soft iron core increases the effect; raising the current or the number of coils increases it further. Electromagnets are based on this simple principle.

A basic electromagnet can be constructed around a long carriage bolt. Almost any iron core will work, including a large nail,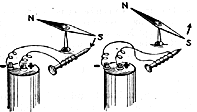 but the bolt is simpler to work with. Screw a nut on to the end of the bolt so that there are two stops on either end, the nut and the head of the bolt itself. Wrap a piece of paper around the bolt between the nut and head and tape in place. Leaving a foot or so free, coil an insulated wire around the length of the bolt, between the head and the nut. Once the end is reached, coil the wire back to the other end. Repeat until there are several layers. The free ends of the wire should be at opposite ends of the bolt. Tape the wire so that it stays in place. Leaving a foot or so free, cut the wire off at the end. Strip the insulation off the ends of the wires. When the wires are attached to a battery (dry cell), the electric current around the wire and bolt will form a magnetic field. Don't use it too long, as the battery will drain very quickly.
For a live demo, watch this video on YouTube:
http://www.youtube.com/watch?v=nPjAueJGdzA&feature=related
We hope that clarifies your doubt.
Regards
Team
Topperlearning
Answered by
| 18th Oct, 2010,
12:43: PM
Kindly Sign up for a personalised experience
Ask Study Doubts

Sample Papers

Past Year Papers

Textbook Solutions
Sign Up
Verify mobile number
Enter the OTP sent to your number
Change
Sign up with different email address/mobile number