ABC IS AN ISOSCELES RIGHT ANGLED PRIS...
Question
Ask Question Now
ABC IS AN ISOSCELES RIGHT ANGLED PRISM.WHAT IS THE CRITICAL ANGLE FOR THIS PRISM.IS THIS VALUE A CONSTANT?IF THE ANGLE OF INCIDENCE IS GREATER THAN THE CRITICAL ANGLE WILL THAT RAY UNDERGO TOTAL INTERNAL REFFLECTION OR NOT?EXPLAIN
Expert Reply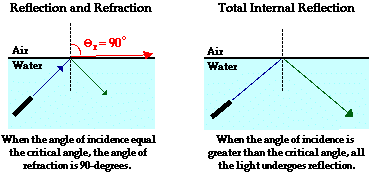 Reflecting prisms



In optical instruments, right-angled prisms are widely used to divert the course of light rays. As the total internal reflection takes place within them, the loss of light energy can be kept to a minimum. So, the prisms are preferred to mirrors for the purpose of reflection.